Nanna Nore
Arts Educator, Operations Manager at Körsbärsgårdens Konsthall and Actor
Country: Sweden
Cohort: CCL Scandinavia 2022
korsbarsgarden.se
"I´m so happy to be a part of CCL as I always looked for ways to connect climate awareness and art and now I got a huge help in this network of amazing people to do it. My main work is educational and mostly I work with young people or children with art and to include climate work in that I believe is of utter importance."
About
Nanna is an actress who became an arts educator, who then learned to teach theatre, became Operations Manager and Head of Learning at Körsbärsgårdens art museum. She refuses to quit any of these professions but prefers to dance with these many roles in her life. At the moment her main focus is the learning at Körsbärsgården Museum of contemporary art and she believe this is where she can also make the biggest impact. Every year she gets to meet with hundreds of children with projects that are combining climate work and art.
Project Highlights
Öja School – Theatre performance
In 2022 I worked with Öja School close to our Art museum with a big theatre performance were the pupils learned from a scientist working on seaweed and it's possible use as fertilizer, wrote their on storys which I turned into a play, rehearsed it while making backdrop and costumes and music and finally performed this play on the biological cycle in the sculpture park of our museum.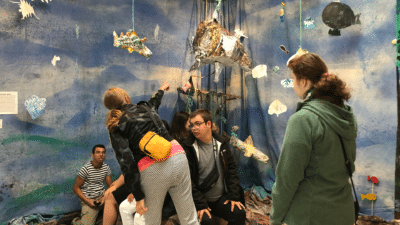 Climate workshops
Each summer we do several workshops on art which this year had a climate theme. It all ended up in a beautiful exhibition.
Turning seaside waste into art
The whole summer we collected waste from the seaside and made it into art or left it for proper handling.