News
Posted on September 2nd, 2018
CCL in Action: Kelly Lovelady, The Drowners UK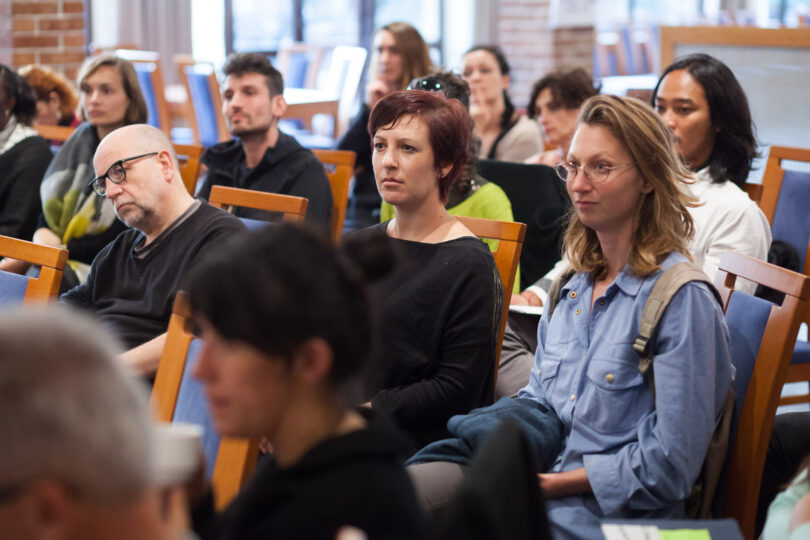 The Drowners – Kelly Lovelady, Ruthless Jabiru, UK
Kelly Lovelady is the founding Artistic Director and conductor of Ruthless Jabiru, a London chamber orchestra dedicated to exploring humanitarian stories through new music. Ruthless Jabiru's programmes are devised around existing and commissioned repertoire by today's composers with a view to promoting compassion, sustainability and social consciousness. Recent projects have included a tribute to the damaged landscape of Maralinga alongside the Australia exhibition at the Royal Academy of Arts, an homage to poet Oodgeroo Noonuccal at the inaugural Australia & New Zealand Festival of Literature & Arts, and a co-production with the Art Not Oil Coalition for Joy & Dissent festival of cultural Activism.
Supported by a CCL in Action grant, on 10 March 2018, Ruthless Jabiru presented The Drowners at Kings College Chapel London: a performance honouring tidal forces and those who offer themselves up to our oceans in search of a safer life. The aim of the project was to address the need for a deeper understanding of and compassionate discussion around refugee policy and its global implications. The orchestra delivered a 90-minute continuous programme of music for chamber orchestra by Rosalind Page, Nicole Lizée, Wolfgang Rihm, Andrew Ford and Fausto Romitelli, conducted by Kelly Lovelady and featuring baritone Morgan Pearse.
Project support was received from Creative Climate Leadership/the Creative Europe Programme of the European Union, Julie's Bicycle, PiNA, Platforma Arts + Refugees Network, Counterpoint Arts, the Menzies Centre for Australian Studies, City University London, Resonate Magazine, Loud Mouth, The Music Trust, Inside Story, Editions Ricordi, Australia Council for the Arts; and the orchestra's official suppliers Mighty Bright, Trinity Xtras and RelevantNow.
Kelly received expert mentorship from Julie's Bicycle.
Back to All News & Showcase